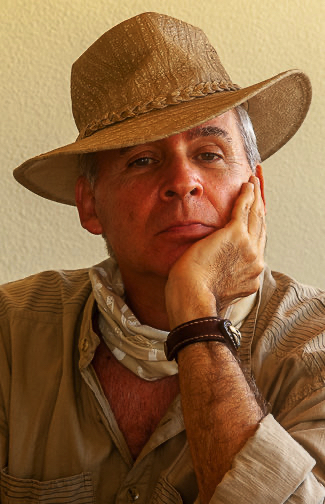 Mesmo que seja fácil para muitas pessoas recitar as conquistas de suas vidas, para mim nunca foi uma função confortável e, por favor, não interprete mal minhas palavras como falsa modéstia. Apesar dessa realidade, torna-se comum para aqueles de nós abençoados com o dom de um talento, eventualmente coletar um monte de elogios durante nossa existência, particularmente, se prevalecermos por muito tempo neste incrível planeta e permanecermos ativos em nossa profissão.
Humildemente convido você a ler o curriculum vitae abaixo para conhecer a trajetória de minha carreira e o resultado dessas experiências tão gratificantes.
• Pintor, fotógrafo, escultor, escritor, palestrante, apresentador audiovisual, ex-educador de artes plásticas.
• Nascido em Artemisa, Cuba.
• Criado, educado e naturalizado nos Estados Unidos. Atualmente residente no Brasil.
• Obteve seu diploma de Bacharel em Belas Artes na universidade New Jersey City University.
RECONHECIMENTOS PREDOMINANTES
• Ex-nomeado para o ilustre Tiffany Foundation Grant, um privilégio concedido anualmente a cem artistas plásticos nos EUA por seu significativo impacto no campo da arte.
• Destacado no histórico livro de arte, Fuera de Cuba, como um dos mais ilustres artistas cubanos de sua geração.
• Em três ocasiões diferentes suas obras foram positivamente criticadas pelo famoso journal New York Times, incluindo: "O Sr. Lopez-Espina é claramente um mestre na aplicação de tinta acrílica em telas."
• Frequentemente mencionado como um dos fotógrafos de natureza mais eminentes do mundo.
• Considerado pela crítica como um dos fotógrafos latino-americanos preponderantes de sua época.
AUSTRÁLIA
• The Australian Museum - Sydney
BRASIL
• Terra Vista - Trancoso
FRANÇA
• Museum d'Histoire Naturelle - Bourges
GRÃ BRETANHA
• Banbury Museum - Banbury, England
• Barrack Street Museum - Dundee City, Scotland
• Berwick Museum & Art Gallery - Berwick-upon-Tweed, Eng.
• Birmingham Museum - Birmingham, England
• Booth Museum - East Sussex, England
• Brecknock Museum & Art Gallery - Powys, Wales
• Bristol City Museum - Bristol, England
• Chelmsford Museum - Essex, England
• Cliffe Castle Museum - West Yorkshire, England
• Dick Institute - Kilmarnock, Scotland
• Fox Talbot Museum - Lacock, England
• Grantham Museum - Lincolnshire, England
• Guernsey Museum & Galleries - Candie Gardens, Eng.
• Hancock Museum - Tyne and Wear, England
• Haslemere Museum - Haslemere, England
• Inverness Museum & Art Gallery - Inverness, Scotland
• Lancaster City Museum - Lancaster, England
• McLean Museum & Art Gallery - Greenock, Scotland
• Museum of Barnstaple - Barnstaple, England
• National Museum of Scotland - Edingurgh, Scotland
• New Walk Museum - Leicester, England
• Northampton Museum - Northampton, England
• Oxford University Museum - Oxford, England
• Paisley Museum & Art Galleries - Paisley, Scotland
• Plymouth City Museum - Plymouth, England
• Pontefract Museum - Pontefract, England
• Reading Museum - Reading, England
• Royal Cornwall Museum - Cornwall, England
• Royal Museum of Scotland - Edinburgh, Scotland
• Royal Photographic Society - Bath, England
• Scottish Natural Heritage - Inverness, Scotland
• Wakefield Museum - Wakefield, England
• Walter Rothschild Museum - Tring, England
• Whitstable Museum & Gallery - Kent, England
• Woodhorn Museum - Ashington, England
• Yorkshire Museum - York, England
HOLANDA
• The Museon - Den Haag
IRLANDA
• Ulster Museum - Belfast
NOVA ZELÂNDIA
• Otago Museum - Dunedin
ÁFRICA DO SUL
• 7th World Wilderness Congress - Port Elizabeth
• Kinstenbosch Gardens - Cape Town
• Skukuza Gallery - Kruger National Park
• Wildlife & Environmental Society - Johannesburg
ESTADOS UNIDOS
• Atlanta College of Art - Atlanta, GA
• Bergen Community Museum - Paramus, NJ
• Cayman Gallery - SOHO, New York City, NY
• Cedar Rapids Museum of Art - Cedar Rapids, IA
• Center for the Fine Arts - Miami, FL
• Chippewa Nature Center - Wheeling, WV
• City Without Walls - Newark, NJ
• Civic Fine Arts Association - Sioux Falls, SD
• Caldwell College - Caldwell, NJ
• Courtney Gallery - NJCU, Jersey City, NJ
• Cottey College - Nevada, MO
• Cumberland Museum - Nashville, TN
• Des Moines Center of Science - Des Moines, IA
• George Washington University - Washington, DC
• Haverstraw Enrichment Movement - Haverstraw, NY
• Jacob Javits Center - New York City, NY
• Joseph Gallery - Westfield, NJ
• Jane Voorhees Zimmerly Museum - New Brunswick, NJ
• Kevon Gallery - Plainfield, NJ
• La Salle University - Philadelphia, PA
• Lehigh University - Bethlehem, PA
• Leigh Yawkey Woodson Art Museum - Wausau, WI
• Miami University Museum - Oxford, OH
• Missoula Museum of the Arts - Missoula, MT
• MOCHA - SOHO, New York City, NY
• Montclair State University - Montclair, NJ
• Morris Museum of Art and Science - Morristown, NJ
• Museo de Arte de Ponce - Ponce, Puerto Rico
• Museum of Contemporary Hispanic Arts - NYC, NY
• Nabisco International Headquarters - East Hanover, NJ
• National Academy of Art - New York City, NY
• New Jersey Institute of Technology - Newark, NJ
• New Visions Gallery of Contemporary Art - Atlanta, GA
• Oakside Cultural Center - Bloomfield, NJ
• Oglebay Institute - Wheeling, WV
• Plano Cultural Art Center - Plano, TX
• The City University of New York - New York City, NY
• The Fine Arts Museum of the South - Mobile, AL
• The Newark Museum - Newark, NJ
• Tweed Art Gallery - Plainfield, NJ
• Toledo Zoo Museum - Toledo, OH
• Shirley's Gallery - North Bergen, NJ
• University of Massachusetts - Amherst, MA
• Westby Center - University of Tulsa, Tulsa, OK
Vencedor em mais de duzentos competições de arte e fotografia nos EUA e ao redor do mundo, incluindo:
• First International Exhibition of Nature Photography, em Finlândia - O Grande Prêmio.
• Wildlife Photographer of the Year, em Inglaterra - a maior e mais prestigiada competição internacional de imagens da natureza no mundo. Embora tenha participado apenas por alguns anos, suas fotografias foram selecionadas cinco vezes entre as cem imagens mais memoráveis daquele ano.
• Agfa Wildlife Photographer of the Year, em África do Sul - vencedor durante vários anos de diferentes categorias nesta competição internacional.
New York Times (três ocasiões), The Miami Herald; El Diario; The Star Ledger; The Press; The Herald News; The Record; Diario Las Americas; The Associated Press; UPI, e muitas outras.
APARECIMENTOS NA TELEVISÃO
Convidado por várias emissoras de televisão para falar sobre seu trabalho, incluindo: NBC-NY; WOR-TV; PBS; WPBS-TV; TBN; UNI e NJN.
Suas fotografias e obras de arte ilustraram mais de setenta e cinco livros e livros-texto, enquanto milhares de suas fotografias apareceram em calendários, catálogos, cartões postais e revistas. Na América do Norte, eles incluem: National Geographic; Outdoor Photographer; Outdoor & Travel Photography; Birder's World; Ranger Rick; Popular Photography; The Nature Conservancy; Cruising World; Virginia Wildlife; Audubon; National Wildlife; Kodak; World Wildlife Fund; Lerner Publishing; Time-Life Books; Bridgestone Press; Compass Point Books; Capstone Press; Watts Library; Children's Press; Nikon World; Wild Animal Baby; Shutterbug; etc. Além disso, BBC Wildlife, na Inglaterra; NaturFoto, Na Alemanha; SINRA, no Japão; Getaway, SA Photo, Camera & Image e Art Publishers, na África do Sul, e muitos outros. Ele também já escreveu muitos artigos para revistas sobre fotografia, alguns com distribuição mundial.
Conduziu uma miríade de palestras e seminários de instrução em famosas universidades, instituições públicas e conferências, incluindo: George Washington University; City College of New York; University of Massachusetts (NECCC Photographic Conference - 6 vezes); La Salle University; Montclair State University; NANPA Photographic Summit, e vários outros na África do Sul e Canadá. Um grande número de suas palestras e seminários têm sido patrocinados pelas empresas Nikon e Kodak.
Muitas de suas pinturas e fotografias formam parte do acervo de corporações e instituições conhecidas, e algumas fazem parte de coleções permanentes em vários museus ilustres, como o The Newark Museum.
• Fundador, ex-presidente e ex-guia-chefe da Fototreks. Por muitos anos, uma das maiores e mais conhecidas empresas de turismo fotográfico do mundo. A Fototreks se especializava em viagens aos cantos mais ocultos do globo, principalmente atendendo fotógrafos profissionais e semiprofissionais.
• Membro da Nikon NPS há mais de três décadas.