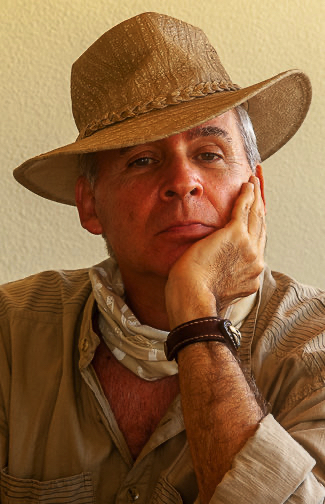 Although it's easy for many to recite their life's achievements, for me it has never been a comfortable undertaking, and please, don't misconstrue my words as false modesty. Despite this reality, it becomes commonplace for those of us blessed with the gift of a talent, to eventually collect a bunch of accolades during our existence, particularly, if we prevail long enough on this incredible planet and remain active in our craft.
I humbly invite you to peruse the curriculum vitae below to learn the journey of my career and the outcome of those fulfilling experiences.
• Painter, photographer, sculptor, writer, speaker, audio visual presenter, ex fine arts educator.
• Born in Artemisa, Cuba.
• Raised, educated and naturalized in the United States. Presently residing in Brazil.
• Earned his Bachelor of Fine Arts Degree from New Jersey City University.
PREVAILING ACKNOWLEDGEMENTS
• Past nominee for the illustrious Tiffany Foundation Grant, a privilege granted annually to one-hundred artists in the USA for their significant impact in the field of art.
• Highlighted in the historical art book Outside Cuba as one of the most distinguished Cuban-born artists of his generation.
• Heralded on three different occasions by the New York Times, including: "Mr. Lopez-Espina is clearly a master of applying acrylic paint to canvas."
• Often mentioned as amongst the most eminent nature photographers in the world.
• Regarded by critics as one of the preponderant Latin-American photographers of his era.
SOLO AND GROUP EXHIBITIONS
AUSTRALIA
• The Australian Museum - Sydney
BRAZIL
• Terra Vista - Trancoso
FRANCE
• Museum d'Histoire Naturelle - Bourges
GREAT BRITAIN
• Banbury Museum - Banbury, England
• Barrack Street Museum - Dundee City, Scotland
• Berwick Museum & Art Gallery - Berwick-upon-Tweed, Eng.
• Birmingham Museum - Birmingham, England
• Booth Museum - East Sussex, England
• Brecknock Museum & Art Gallery - Powys, Wales
• Bristol City Museum - Bristol, England
• Chelmsford Museum - Essex, England
• Cliffe Castle Museum - West Yorkshire, England
• Dick Institute - Kilmarnock, Scotland
• Fox Talbot Museum - Lacock, England
• Grantham Museum - Lincolnshire, England
• Guernsey Museum & Galleries - Candie Gardens, Eng.
• Hancock Museum - Tyne and Wear, England
• Haslemere Museum - Haslemere, England
• Inverness Museum & Art Gallery - Inverness, Scotland
• Lancaster City Museum - Lancaster, England
• McLean Museum & Art Gallery - Greenock, Scotland
• Museum of Barnstaple - Barnstaple, England
• National Museum of Scotland - Edingurgh, Scotland
• New Walk Museum - Leicester, England
• Northampton Museum - Northampton, England
• Oxford University Museum - Oxford, England
• Paisley Museum & Art Galleries - Paisley, Scotland
• Plymouth City Museum - Plymouth, England
• Pontefract Museum - Pontefract, England
• Reading Museum - Reading, England
• Royal Cornwall Museum - Cornwall, England
• Royal Museum of Scotland - Edinburgh, Scotland
• Royal Photographic Society - Bath, England
• Scottish Natural Heritage - Inverness, Scotland
• Wakefield Museum - Wakefield, England
• Walter Rothschild Museum - Tring, England
• Whitstable Museum & Gallery - Kent, England
• Woodhorn Museum - Ashington, England
• Yorkshire Museum - York, England
HOLLAND
• The Museon - Den Haag
IRELAND
• Ulster Museum - Belfast
NEW ZEALAND
• Otago Museum - Dunedin
SOUTH AFRICA
• 7th World Wilderness Congress - Port Elizabeth
• Kinstenbosch Gardens - Cape Town
• Skukuza Gallery - Kruger National Park
• Wildlife & Environmental Society - Johannesburg
UNITED STATES
• Atlanta College of Art - Atlanta, GA
• Bergen Community Museum - Paramus, NJ
• Cayman Gallery - SOHO, New York City, NY
• Cedar Rapids Museum of Art - Cedar Rapids, IA
• Center for the Fine Arts - Miami, FL
• Chippewa Nature Center - Wheeling, WV
• City Without Walls - Newark, NJ
• Civic Fine Arts Association - Sioux Falls, SD
• Caldwell College - Caldwell, NJ
• Courtney Gallery - NJCU, Jersey City, NJ
• Cottey College - Nevada, MO
• Cumberland Museum - Nashville, TN
• Des Moines Center of Science - Des Moines, IA
• George Washington University - Washington, DC
• Haverstraw Enrichment Movement - Haverstraw, NY
• Jacob Javits Center - New York City, NY
• Joseph Gallery - Westfield, NJ
• Jane Voorhees Zimmerly Museum - New Brunswick, NJ
• Kevon Gallery - Plainfield, NJ
• La Salle University - Philadelphia, PA
• Lehigh University - Bethlehem, PA
• Leigh Yawkey Woodson Art Museum - Wausau, WI
• Miami University Museum - Oxford, OH
• Missoula Museum of the Arts - Missoula, MT
• MOCHA - SOHO, New York City, NY
• Montclair State University - Montclair, NJ
• Morris Museum of Art and Science - Morristown, NJ
• Museo de Arte de Ponce - Ponce, Puerto Rico
• Museum of Contemporary Hispanic Arts - NYC, NY
• Nabisco International Headquarters - East Hanover, NJ
• National Academy of Art - New York City, NY
• New Jersey Institute of Technology - Newark, NJ
• New Visions Gallery of Contemporary Art - Atlanta, GA
• Oakside Cultural Center - Bloomfield, NJ
• Oglebay Institute - Wheeling, WV
• Plano Cultural Art Center - Plano, TX
• The City University of New York - New York City, NY
• The Fine Arts Museum of the South - Mobile, AL
• The Newark Museum - Newark, NJ
• Tweed Art Gallery - Plainfield, NJ
• Toledo Zoo Museum - Toledo, OH
• Shirley's Gallery - North Bergen, NJ
• University of Massachusetts - Amherst, MA
• Westby Center - University of Tulsa, Tulsa, OK
Winner in more than two-hundred art and photography competitions in the USA and around the globe, including:
• First International Exhibition of Nature Photography, Finland - Grand Prize.
• Wildlife Photographer of the Year, England - the largest and most prestigious international competition of nature images. Although he only participated for a few years, his photographs were selected five times amongst the one-hundred most memorable images of that year.
• Agfa Wildlife Photographer of the Year, South Africa - a multi-year category winner in this international competition.
New York Times (three occasions), The Miami Herald; El Diario; The Star Ledger; The Press; The Herald News; The Record; Diario Las Americas; The Associated Press; UPI, and many others.
Invited by several television stations to talk about his work, including: NBC-NY; WOR-TV; PBS; WPBS-TV; TBN; UNI and NJN.
His photographs and art works have illustrated more than seventy-five books and text-books, while ttthousands of his photographs have appeared in calendars, catalogs, post cards, and magazines. In North America they include: National Geographic; Outdoor Photographer; Outdoor & Travel Photography; Birder's World; Ranger Rick; Popular Photography; The Nature Conservancy; Cruising World; Virginia Wildlife; Audubon; National Wildlife; Kodak; World Wildlife Fund; Lerner Publishing; Time-Life Books; Bridgestone Press; Compass Point Books; Capstone Press; Watts Library; Children's Press; Nikon World; Wild Animal Baby; Shutterbug; etc. In addition, BBC Wildlife, in England; NaturFoto, in Germany; SINRA, in Japan; Getaway; SA Photo; Camera & Image and Art Publishers, in South Africa, and numerous others. He has also written many magazine articles on photography, some with worldwide distribution.
Has conducted a myriad of lectures and instructional seminars at leading universities, public institutions and conferences, including: George Washington University; City College of New York; University of Massachusetts (NECCC Photographic Conference - 6 times); La Salle University; Montclair State University; NANPA Photographic Summit, and various other menus in South Africa and Canada. A great number of his lectures and seminars have been sponsored by Nikon and Kodak.
Many of his paintings and photographs hang at well known corporations, institutions, and some form part of permanent collections at several distinguished museums, such as The Newark Museum.
• Founder, ex-president, and ex-chief guide of Fototreks. For many years, one of the largest and best known photographic tour companies in the world. Fototreks specialized in journeys to hidden corners of the globe mostly catering to semi-professional and professional photographers.
• A Nikon NPS member for more than three decades.